It seems that it is not just the Google Pixel 2 that has some quality control issues. Some users that bought the recently released iPhone X are reporting issues with their screen.
The phones seem to be developing a mysterious green line that runs down the side of their phone
The above images, from Twitter users mix0mat0sis, Nate Heagy and Christian Roman, represent a few of the examples of the "green line of death" as the latter called it. No one seems to know what causes it or how prevalent it actually is.
Apple has not yet commented on the issue, but some suspect it may be the result of an electrical fault, causing the green sub-pixels in the phones' new diamond subpixel pattern to illuminate.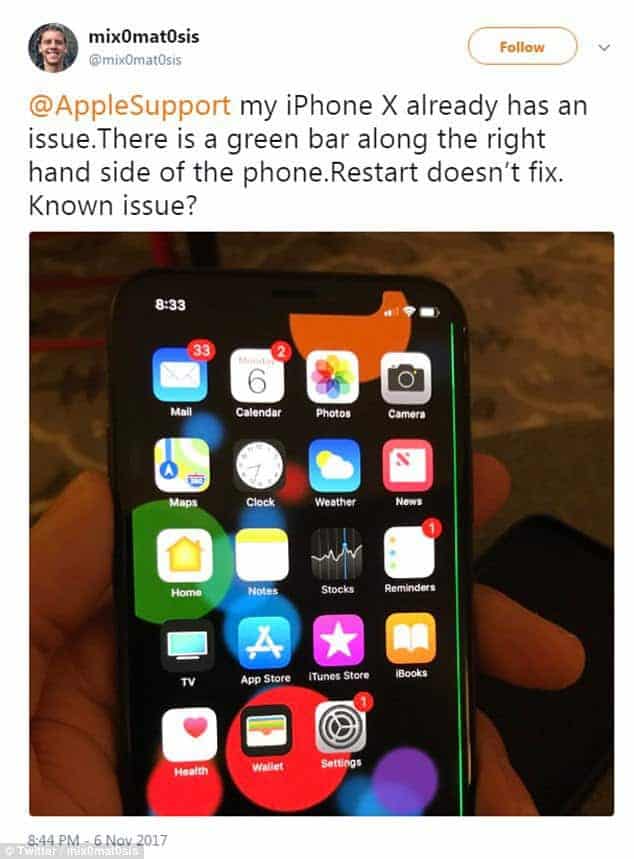 So far at least 25 people have reported the issue, which is not exactly a huge number considering iPhone sales, but with the way, social media works it appears that the issue may become overblown.
According to those who have reported the issue, the phones have not been dropped or damaged. The issue is not going following a restart or a full hardware reset.
According to MacRumors, the issue has been seen on both the 64GB and 256GB, for both Silver and Space Gray devices.
For now, it appears Apple has been replacing affected devices free of charge.
To make matters worse other customer is reporting issues with the device's responsiveness in cold temperatures. On Reddit, several iPhone X owners complained the handset's screen does not work upon stepping outside into a wintry chill.
Apple support site recommends that users use their device where the temperature is between 0º and 35º C (32º to 95º F), however, some users are saying they usage falls well within this range, around 45 degrees F.
It is believed Apple is looking into rolling out a software fix for the problem.