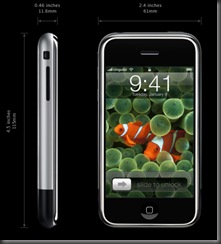 Out November 9th (2007) on the O2 network. The iPhone will be available from O2, Apple and Carphone Warehouse stores across the UK for £269 + an 18 month contract.
What's more interesting is the O2 iPhone deal is tied in with Apple for 5 years, so if you want an iPhone you are going to have to go to the O2 network.
All the O2 tariffs will come with unlimited data and access to 7500 The Cloud's Wi-Fi Hot Spots.Subject to fair usage policy.
Technorati Tags: iPhone , Apple , O2