The iOS 5 update went live about 1:00 PM -5 GMT.  Users are reporting all over the world that they are having multiple issues with the download and Apple has confirmed that the problem is on their end.  Making matters worse, there are reports that aborting the update is duplicating the contacts list and one user who had set up mail in Mac preferences is getting this message: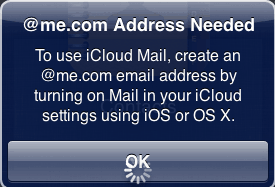 The word from Apple is to wait a couple of hours and try again. For those of you with mail issues the link to Apple message boards can be found here.   The smart money is on the iCloud servers being overwhelmed. That said, the Apple iCloud engineers are going to have their work cut out getting ready to activate about three million iPhones in a couple of days not to mention the iCloud music roll out at the end of the month.
Might be some iTerminations come the first of November, but we hope not.
Thanks to crimonsonsky76 for the tip!