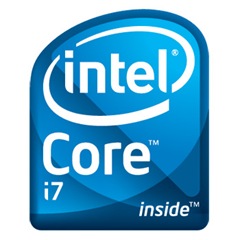 The new Intel Core i7 CPU finally available in UK Shops / Web sites. The prices are quite steep at the moment and it is expected that the high demand for these chips will maintain the high prices for some time.
Approximate prices are:
The 2.66GHz Intel i7 920 is around £260 including Vat
The 2.93GHz Intel i7 940 is around £500 including Vat
The monster 3.2GHz i7 965 Extreme Edition is around £860-900 including VAT
Also the new i7 architecture needs a new motherboard and these are not cheap either. The cheapest you are likely to pay is around £230 including VAT for the Gigabyte GA-EX58-UD5 and prices go up to an obscene £300+ including Vat for the EVGA Intel X58 or the MSI Eclipse SLi (Std).
The only semi good news is that DDR3 is coming down in price and you can get 3 x 1Gb Triple Channel DDR3 for about £100-120 including Vat
Originally via Bit Tech