After my very old dishwasher packed in last month and finding myself too lazy to do the dishes by hand every evening I have recently been on the search for a new dishwasher.
I am also quite OCD and I always felt the dishes from the washer seemed cleaner, this is especially true for glasses, I am REALLY OCD about my beer glasses and can't ever have a beer unless the glass is spotless. Hand washing never seemed to get every single mark off the glass.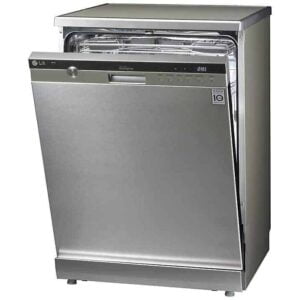 So I decided to try and get the best possible washer I could that would guarantee some beautifully clean beer glasses!! I began my dishwasher search at John Lewis, I have become particularly fond of them recently as they offer a 2 year warranty with most electronics for free as part of their service. How many times do you buy something and it pack in shortly after its year anniversary?
Anyway, my search finally lead me to the LG D1454TF Dishwasher, which uses the power of steam to provide you with gentle yet powerful performance when washing your dishes and gently removes baked-on stains without the need for pre-rinsing.
The TrueSteam system is powerful enough to remove stubborn marks from delicate items such as glass, without leaving them streaky, scratched or damaged. Even more impressively, the dual steam spray lets you wash delicate glasses and dirty pots in a single steam cycle.
Also the beauty of using steam is the ability to use considerably more heat compared to a traditional washer, which should hopefully mean better sanitization of my dishes!
The LG is also quite energy efficient compared to cheaper or older models, if we compare it to the Zanussi ZDF2020 which is also on the John Lewis site just 0.92kWh/cycle compared to 1.05kWh/cycle with a estimated annual consumption of 202.4kWh compared to 231kWh.
Water usage is just 9L compared to 15L and noise level is 38dB compared to 51dB
Finally the LG has 14 place settings compared to 12 of the Zanussi, which is a 16.66% increase in capacity, so overall you should using quite a bit less energy and water to get cleaner dishes, which hopefully goes towards justifying the price difference (it does for me).
At £624.00 the LG is by no means cheap, but I see it as an investment, for the time saved manually doing the dishes, not having to pre wash them before I put them into the washer, increased hygiene, and cheaper to run compared to less expensive washers.