The HTC 7 Mozart will be launched exclusively on Orange in the UK along with the Samsung Omnia 7.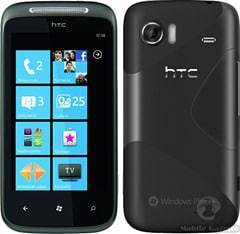 The specification of all the phones is somewhat similar with most phones using a 1GHz Qualcomm MSM8250 CPU and the rest of the specification is:
Internal storage: 8 GB
ROM: 512 MB
RAM: 576 MB
Screen: 3.7 inches, 480 x 800 WVGA
Camera: 8 megapixel, Auto focus and Xenon flash, 720p HD video recording
Battery: 1300 mAh
Weight: 130 grams
The phone isn't dissimilar to previous HTC designs but it is nice to see they have used an aluminium unibody which gives the phone more of an expensive feel and better build quality.
One disadvantage seems to be a lack of expandable memory, which seems common among all of the new phones. I find this odd as it would distinguish the phones from the iPhone and potentially give it an advantage in the memory area.