Habey is putting a smile on HTPC fans with the release of 2 new mini HTPCs the BIS-6540HD and the BIS-6550HD.
The BIS-6540HD is capable of running an impressive 1080p signal with a 1.6GHz Intel Atom N270 processor thanks to a special HD Hardware decoder.
The unit is completely fanless and supports SSD for 100% silent computing. It also features 2GB of DDR2 RAM, eight USB ports, a built-in CF socket DVI and VGA outputs, ethernet, and options for wireless and HD TV tuner.
Unfortunately there is no word on pricing or availability yet but it will happily play Planet Earth on Blu-ray.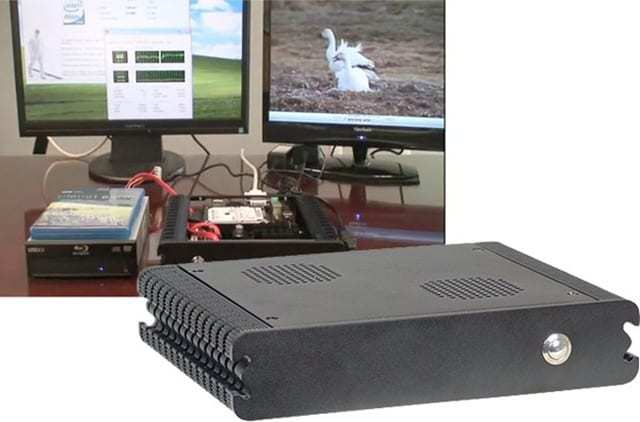 HABEY announced its latest high performance full HD 1080p blu-ray capable Intel N270 Atom processor based platform, Model BIS-6540HD.  It has a built-in ultra low power HD AVC/VC-1/MPEG-2 hardware decoder, capable of full HD real-time decoding of H.264, VC-1 media contents at up to 40Mbps, MPEG-2 at up to 125Mbps.  The BIS-6540HD is capable to playback full HD 1080p blu-ray content and uses less than 50% of the 2.5W Atom N270 CPU.  That is over eight times more efficient in term of CPU usage when playing back the same contents of using an Intel T7300 Core 2 Duo processor.   The power consumption of the complete loaded system when playing blu-ray less than 20W, a fraction of a conventional Core 2 Duo system with GPU and HD capability.
Standard media interfaces include: VGA, DVI, built-in CF socket, two SATA II ports, eight USB 2.0 ports, ten COM port (one 232/422/485 selectable) one Gigabit Ethernet. Optional Composite, S-Video out, wireless card and HD TV tuner is also available.  The industrial grade embedded board, SSD (solid-state drive) support and compact fanless enclosure design make it perfect for any full HD media player applications.  Based on request for projects, OEM options are available on various enclosures, including HABEY's signature fanless enclosure with high efficient heatpipe design. Custom branding is also available..
Features
■ Small form factor fanless enclosure
■ Intel® Atom™ N270 1.6GHz processor
■ Low power consumption for HD playback 
■ DDR2 SODIMM slot support up to 2GB RAM
■ Wireless and HD TV tuner options
■ Ten COM ports, eight USB ports
■ Built-in CF socket, two SATA II ports
Applications
■ Digital signage HD media player
■ Consumer Set-Top-Box/network media player
■ Kiosk, interactive signage
■ High-definition media center PC
■ Multimedia presentation
Specifications
Processor: Intel® Atom™ N270 1.6GHz processor
Chipset: Intel 945GSE+ICH7M
RAM: One DDR2 SO-DIMM Socket, up to 2GB
SATA: Two SATA II ports, SSD Support
IDE: One IDE CF socket, one IDE
USB: Eight USB 2.0 ports
Video: One VGA, one DVI, one LVDS, optional Composite Video, one S-Video
Ethernet: One Gigabit Ethernet port
Hardware decoder video format support:
   H.264/AVC SP, MP and HP at Level 4.1 up to 40 Mbps
   SMPTE VC-1 SP, MP and AP at Level 3 up to 40 Mbps
   MPEG-2 MP at ML  and MPEG-2 MP at HL, up to 125Mbps
Uncompressed video output
• YUV 4:2:0, YUV 4:2:2
• NV12 planar YCbCr format
• YUY2, UYVY packed YCbCr format
• 480i, 480p, 576i, 576p, 720p, 1080i, 1080p support 
Power: 12V DC
Operating Temperature: 0°C – 60 °C
Dimensions: 250 x 195 x 50mm, 9.85" x 7.68" x 1.97" (W x D x H)