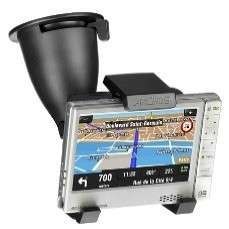 No surprise to many, Archos have finally announced a GPS solution for the Archos 605. The unit is a In Car Holder for the 605 Wi-Fi PMP that turns it into a fully fledged navigational system.
The In-Car Holder will be sold for approximately $130 and in theory this will make it quite an impressive competitor to most dedicated GPS system. This is because the Archos has a much larger hard drive (30-160 Gb) and screen resolution compared to most similarly priced GPS systems.
The new system will use Tele Atlas maps and will be available as a European version cover 22 countries, a North America version covering the US and Canada, and a Chinese version.
The full Archos 605 GPS package will give you the following features:
Your Navigation
Clear, easy-to read maps on the high-resolution 4.3-inch touch screen
Easy and intuitive address, zip-code and POI (point of interest) markers for rapidly selecting destination points
Precise navigation with automated simulation inside tunnels, lane assistance, advance signposts and fast and accurate route recalculation
Traffic assistance, route planning, and speed control assistance in some countries
Gain navigation information on any location throughout North America, Western Europe and China
Get clear voice-to-text support through the car's FM stereo (via the built-in line out), or the ARCHOS 605 WiFi's amplified built-in speaker
Your Media on the Move
Passengers can use the ARCHOS 605 WiFi to watch recorded TV shows and videos while travelling, such as keeping families and children entertained in the back seat of the car
Record TV shows in advance for the perfectly relaxed road trip
Rent and watch movies from the ARCHOS Content Portal
Transfer and store photos directly from your digital camera and create slide shows
Share your media with friends and family on their TV
Play games while on the go
Your Internet
Surf the web to visit favourite sites
Stream the latest news, online videos, TV shows and sports from websites – ARCHOS devices are the only to support Adobe Flash 9 for online video streaming.
Check email from any web-based service.
Access hundreds of Widgets, including world maps, weather, and currency converters