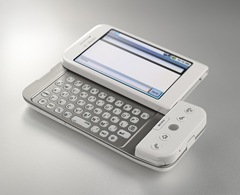 There has been quite a bit of talk recently about the release of the new G1 phone by HTC using Google's Android.
Android is a open source smart operating system for mobile phones and is developed by the Open Handset Alliance led by Google.
The G1 which is the first phone to be released using Android will be available in the UK in early November and the rest of Europe 2009. The handset will be exclusive to T-Mobile (they are a founding member of the Open Handset Alliance) and will be free on price plans from £40 a month (no news on pays as you go), which will make it competitive with the iPhone on pricing, which is "free" for a £45 a month tariff from O2. You can pre-register with T-Mobile here www.t-mobile.co.uk/tmobileg1.
In the US the G1 Phone will be $179 – very cheap for a smart phone – and will be launched on October 22.
T-Mobile are touting the G1 to have a "Superior user experience" and they predict their Web 'n' Walk will get a 250% increase in Internet traffic.
The G1 has a touch-screen interface and a Sidekick-like keyboard, which will really set it apart from the iPhone.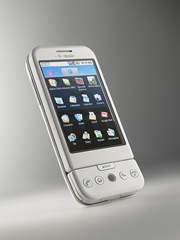 With video you can swipe, frame and crop a photo to the homescreen. Street view and Google maps look great. Compass (GPS) mode moves as you move. Comes with Google Talk, Google Maps with directions and traffic view, street view with landmarks. Facebook looks good in the Webkit browser. The Music player has advanced features. The Android Market will be an app store for games and apps. It has a dedicated search button on keyboard, which competition authorities might take a good look at.
Unfortunately it does have some major downsides (for me at least!). There is no Exchange functionality (even the iPhone has this!), it can not be used as a tethered modem, and there is no 3.5mm headphone jack.
Exchange is a big one for myself as I use my phone for business and I like to synch everything, there is the opportunity for third party developers to build for this.
Engladget have confirmed that the G1 will use a proprietary ExtUSB connector, meaning you'll need custom headphones or an adapter to plug in your own, AND the adapter wont be available immediately at launch!
I have been quite excited by Android, and I love HTC (I just hate Windows Mobile) but I think this phone may some key features missing that will stop me buying it. I am confident we will see some brilliant phones using Android, and once more 3rd party applications are available this phone could very well be more appealing.