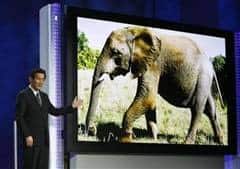 New rules being implemented by the government will see large plasma TVs being banned for consuming too much energy.
Ministers have labelled large plasma screens the "4x4s of the living room" and as part of the battle against climate change, models that fail to meet newer, more stringent energy guidelines will be banned in the UK. New minimum energy standards are expected to be agreed by the EU this spring.
"In the past five years we have seen the main television in a household change from typically being a 24in to 32in CRT television to being a much larger flatscreen television, with screen sizes of between 32 and 42 inches becoming more and more common. Not surprisingly, this has seen the energy used by the main television in the house increase."
According to the government-funded Energy Saving Trust, plasma televisions which are 50% bigger than their cathode-ray tube equivalents "consume about four times more energy".
Personally while I am all for going green this does sound a little ridiculous. When they ban 4x4s or any large engine car then by all means come and ban my Plasma.