The Garmin Edge 520 is a hugely popular GPS bike computer; it bridges the gap between cheap GPS device and the high-end models such as the Edge 1000 that cyclist such as myself dream about. While it is not without its flaws, it has a huge array of features, ideal for the fair-weather cyclist, including compatibility with multiple sensors and power meters.
Garmin have now updated the model to be even more appealing to you Sunday rider; the 520-Plus offers all the features of the 520 plus advanced navigation and connected features
Preloaded on the Edge 520 Plus, the Garmin Cycle Map includes turn-by-turn navigation and new alerts that notify riders of sharp curves ahead. It will even guide cyclists back to the route – or back to start – if they stray away or decide to head home early. Before heading out, riders can plan and download their routes on the improved and revamped Course Creator in Garmin Connect, which uses Trendline popularity routing to provide riders with the best road, mountain or gravel routes that are aggregated from those most travelled by fellow cyclists.
The Edge 520 Plus has a suggested retail price of £259.99.
A bundle option, which includes a heart rate monitor as well as cadence and speed sensors, has a suggested retail price of £349.99.
Additionally, a mountain bike bundle option, which includes a mountain bike mount, Edge remote control and silicone case has a suggested retail price of £299.99.
Garmin Edge 130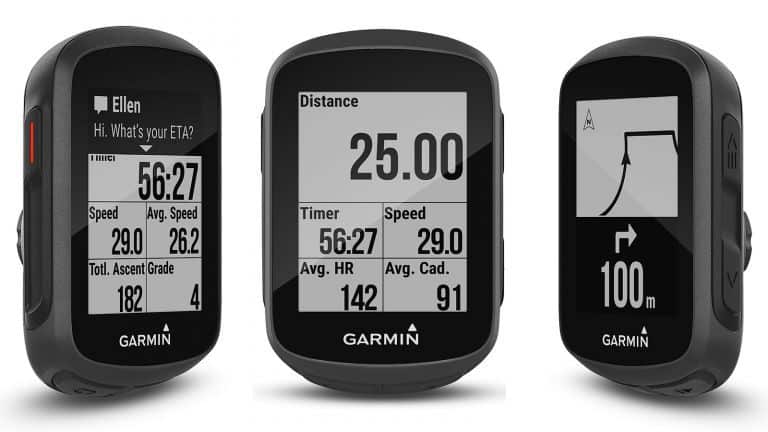 While the 520 is the one I would recommend for the most cyclist, it is still a large investment for some people. If you have spent £300 on your first road bike, spending nearly the same again on a bike computer crazy.
This is the market the new Edge 130 will appeal to. Priced at £169 or a bundle option, which includes a heart rate sensor, for £199.99 this new model is much more wallet-friendly.
This isn't some featureless bike computer though, it still has navigational tools like compatibility with the Garmin Connect Course Creator and turns prompts.
Using GPS, GLONASS and Galileo satellites, plus a built-in barometer, the Edge 130 will provide greater coverage and more accurate ride data, so cyclists know how far, fast and high they ride.
The Edge 130 supports Bluetooth and ANT+  for additional sensor capabilities. It is also compatible with power meters and can use Strava Live Segments.
It can pair with your phone and provide you text and call alerts during your ride.
I have not had a chance to use this device yet, but it sounds identical to the original 520 but with a black and white display.
It is worth noting though that while £169 is a great price, the original Garmin Edge 520 is only £179.99 on Amazon and it has dropped as low as £167.99 according to Keepa