These days, playing games does not involve sitting near a console with a joystick or going to a casino miles away to be surrounded by smoke and annoying players. Instead, everyone has a smartphone or tablet to browse, read, play music or play some games on. That's the trend, and that's what people of all ages want. They want a simple way to play games wherever they are – on a bus, on a lunch break, lounging on their deck – anywhere, anytime!
Mobile games have a fascinating power in them. No matter what one's age or gender is, children or adults, men or women, they all demonstrate equal enthusiasm when it comes to playing mobile games, which have been gaining great popularity over the last decade thanks to the rise of smartphones.
Mobile gaming is a multi-billion-dollar industry that continues to grow and be lucrative, now producing revenue greater than PC and console gaming. There's probably an app for almost anything you want and need, but games make up more than 30 percent of all mobile apps available. That means hundreds of thousands of games are at your fingertips thanks to smartphones serving as a place for developers to distribute games and all kinds of gamers to play them.
Whether people prefer Android, such as Samsung smartphones, or go for the insanely popular iPhones and iPads, mobile gaming is growing in popularity. Millions of people have iPhones, and many of them are fans of casino games. Apple games are easy to learn, lots of fun to play, and an extremely convenient way to get in on the action. Most iPhone slots have different levels of play, including custom levels and bonus games. Slots and other casino games specially made for iOS are entertaining because they feature amazing HD graphics and superior sound effects, providing a Vegas-like gaming experience.
According to Venture Beat, mobile gaming requires constant adaptation to how consumers want to consume media. "With such a crowded market, mobile developers' long-term success is defined by their capability to create a powerful, interactive community that not only wishes to participate themselves but seeks to bring other players in as well."
People can play games just for fun or to make a living. There are casinos that offer a wide range of slots specifically for iPhone enthusiasts, as well as for other platforms including Android, Blackberry, and of course Windows.
According to data from Statista, downloads for the gaming industry on the App Store in January 2018 accounted for a quarter (25 percent) of the entire market of all downloads – way ahead of other categories, such as books, travel, entertainment, and lifestyle (all under 10 percent). With the ongoing popularity of iPhones and iPads, the gaming industry is not expected to slow down anytime soon.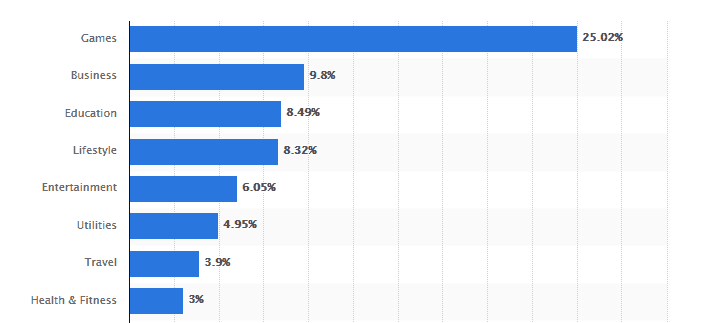 Most popular Apple App Store categories in January 2018, by share of available apps
Business (9.8 percent) and Education (8.49 percent) apps are the next most popular, yet they are still way behind Game apps. According to iTunes, some of the most downloaded and popular business apps for iPhones include Adobe Acrobat Reader, Indeed Job Search, Slack, and Uber Driver.
Popular and often downloaded education apps for iPhones are iTunes U, Duolingo, Google Classroom, and TED. iTunes lists Pokémon Go, Candy Crush Saga, Solitaire, and Temple Run as some of the most popular and downloaded game apps.
"There is a huge gap between leading companies that regard mobile devices as a catalyst to transforming their business and companies that consider mobile devices to be just another development channel," said Principal Analyst Thomas Husson for Forrester. "As of early 2016, only 18% of companies surveyed were in the first category. This number is expected to pass 25% by next year."
"Today, more than half the nation's primary- and secondary-school students — more than 30 million children — use Google education apps like Gmail and Docs," stated an article in The New York Times.
If you're a gamer, there is no better phone to buy than the iPhone. It's the success of the App Store that makes the iPhone such as great platform for mobile games. The gaming options on the iPhone are nearly limitless with over one million apps available for download.
It costs less to develop a mobile game app than a PC or console game because the mobile version features simple gameplay and basic build features can be automated. Yet, mobile games can still cost a lot – anywhere from $50,000 to a few million dollars. But game developers understand the importance, value, and current trend of producing mobile games over other platforms.
Why not enjoy these costly games through the convenience of your smartphone or tablet? Do you like to play games, especially slots and poker? Want to use your phone or tablet to be a discreet game-player, remain anonymous, and not be hassled when you win big? Then, you can play for fun or money, or both – anytime, anywhere, thanks to games specifically designed for mobile technology.
Featured image: 2016-2020 Global Games Market. Source: Newzoo.