The Freecom mHDD Slim 1TB HD a 2.5" portable hard drive that is encased in an attractive brushed aluminium. The entire unit doesn't seem much larger than a 2.5-inch drive itself and it comes with 2 cables, a standard USB 3.0 cable and the newer USB Type-C cable. This is quite a nice addition, most companies just provide the one cable, though at the moment the Type-C cable doesn't have much use for most PCs, apart from some newer laptops.
Both the cables are quite short, this is handy if you are plugging it into a laptop you are right next to, but it is a little annoying when using it on a desktop.
As with all portable hard drives there is little to no setup and everything just works out of the box. You simply just plug the drive into a spare USB port. There is some software available to install on the drive itself, this includes a backup app, a hard drive eraser, and a drive info app. Annoyingly the setup.exe actually runs a flash file giving you the options to install the various software. The actual flash app seemed glitch for me, but you can easily just install the software manually yourself by going to the appropriate folder and running the app.
Actual usable size is 931GB, which is to be expected.
Performance is decent enough for an external HD, the drive is rated at 5400RPM, so it is not designed for high performance. For large files I received a steady 80MB/s to 90MB/s this level of performance is in line with other mechanical hard drives I have tested with this rated disk speed.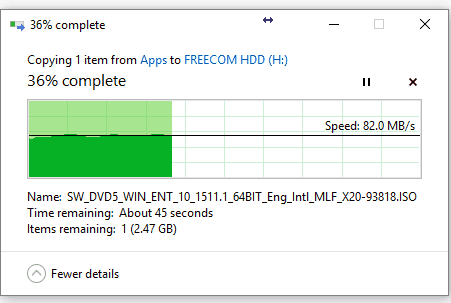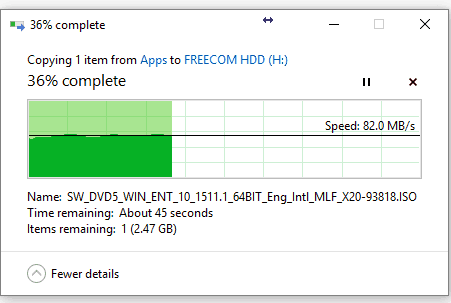 It is priced at £85.99 incl. VAT which makes it quite expensive compared to competing products. In comparison you can get 1 TB USB 3.0 drives on Amazon for as little as £43 but you would have to compromise on size and looks. Western Digital has a similar sized and built drive, the WD 1TB My Passport Ultra for £60, but you don't get the additional cable with that.
Overall, this is a great drive that feels well-built and looks great. Unfortunately, its RRP makes it a little difficult to recommend other competing products, though once it becomes more widely available on sites like Amazon, I am sure the price will drop.
You can buy it now directly from Freecom for £85.99