Fitbit has been struggling a bit recently, and their first venture into the smartwatch market, the Fitbit Ionic, didn't do as well as they would like.
Fitbit is hoping for more success with the newly announced Fitbit Versa, which has a smaller arguably more attractive design and most importantly of all a very competitive price for a smartwatch, just £199. In comparison, the Ionic is £299, while the Apple Watch costs around £329, and Garmin's most recent smartwatch the Forerunner 645 starts at £349.
The Versa will obviously come with slimmed down functionality and will act as a replacement for the Fitbit Blaze. Unlike the Ionic, the Versa won't include a built-in GPS, and it boasts a four-day battery life instead of five.
The Versa still has a heart rate monitor, runs on Fitbit OS, and is waterproofed for swimming. It comes preloaded with Fitbit Coach, which offers a handful of guided exercise routines and automatically time them as you train.
It can also store around 300 songs or stream music from Pandora or Deezer.
The Versa does support NFC payments but it varies from region to region, in the US, for some reason, you will need a more expensive version that costs $229 for this feature.
You can pre-order the Fitbit Versa now for £199 in the UK and $199 in the US. Shipping is expected in 3-4 weeks and there is a 45-day money back guarantee.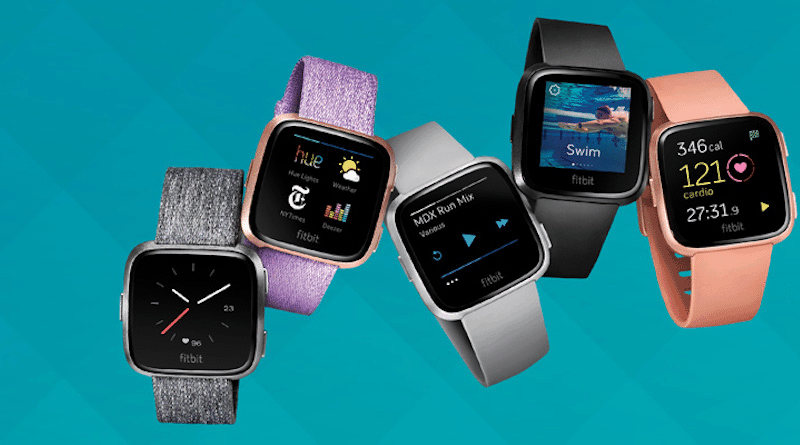 The full feature list states:
On-Screen Workouts
Get personalised on-screen workouts that play on your wrist, coach you through each move and adapt based on your feedback.
Connected GPS
Learn more about your runs and hikes by enabling Connected GPS to see pace and distance on display, plus get a map of your route in the Fitbit app.
Music Experience
Store and play more than 300 songs on your watch – plus download your own or curated playlists from Deezer.**
Bluetooth
Connect Fitbit Versa to wireless Bluetooth headphones like Fitbit Flyer to listen to your favourite tunes – without the wires.
Apps
Access your favourite apps for fitness, sports, news, travel, transport and more with a simple tap.
Smartphone Notifications
See call, text or calendar notifications on screen and get push notifications from your favourite apps. Available when your phone is nearby.
Over 4 Days of Battery Life
With a multi-day battery life of more than four days, Fitbit Versa tracks your morning, night and everything in between.*
Heart Rate Tracking
Better track calorie burn, optimise effort during workouts, see your resting heart rate trends and discover your cardio fitness level.
Payments
With a built-in NFC chip, you can use your credit and debit cards on-the-go, anywhere that accepts contactless payments. See participating banks.†
15+ Exercise Modes
Track specific workouts in modes like Run, Bike or Weights to see real-time stats on screen and get post-workout summaries.
SmartTrack™
Automatically record selected exercises like running, biking and more, and see them saved in the Fitbit app.
All-Day Activity
Track steps, heart rate, distance, calories burned, floors climbed, active minutes, hourly activity and stationary time.
Female Health
Use Versa and the Fitbit app to log your period, record symptoms and compare your cycle against other health stats like sleep, activity and weight. Coming soon.
Personalised Reminders
Stay on track towards your goals with personalised reminders that remind you to stay active, get hydrated, stick to a sleep schedule and more.
Sleep Tracking & Stages
See your time spent in light, deep and REM sleep stages and get personalised insights to help you improve. Learn more.
Swimproof & Tracks Swims
Water resistant to 50M for wearing in the pool or rain. Tracks laps, duration and calories burned during swim workouts.
Cardio Fitness Level
Get a better understanding of your fitness level and see how you can improve over time with a personalised Cardio Fitness Score.
Guided Breathing Sessions
Find moments of calm throughout your day with personalised breathing sessions based on your heart rate.
Customisable Clockfaces
Personalise the hi-res colour touchscreen on Fitbit Versa by choosing from a variety of clock faces designed for any occasion.
Syncs Wirelessly
Sync stats wirelessly and automatically to computers and over 200 leading iOS, Android and Windows devices.
Accessory Bands
Change up your look with silicone sport, leather, metal and woven accessory bands.
Lightweight Design
Designed with a super light geometric case, Versa is a watch that's slim, casual and comfortable enough to wear all day and night.
Dashboard
Set goals, track progress and get a more complete picture of your health and fitness – all on the Fitbit app.