Love it or hate it, gambling has been a popular past time in the UK for many years, and in the past decade, the trend has been moving away from your traditional bookies or casino and moving to online betting.
Online gambling accounts for 33% of all gambling in Britain with gambling operators generated a Gross Gambling Yield of £4.5billion.
This means online gambling is the largest gambling sector in Britain – over the same period the National Lottery generated £3.4billion, £3.3billion by the high street betting sector and £1billion by traditional casinos.
Online slot machines are one area of the industry that has seen strong growth; there is generally an easy learning curve, free to play options and generous sign-up bonuses plus a huge variety of games to play.
Sometimes the variety of games can be a little overwhelming, and that is why companies such as Slot Catalog have a top 100 ranking system for slot games.
On a daily basis, they scan casino sites for 23 markets to find out what games they have and which games they place in their lobby.
A portion of these casinos have enough estimated traffic to be included in the SlotRank calculation, the rest will be excluded since their exposure to is minimal.
They then aggregate this data and distribute points to each game based on its positions in the crawled casinos. Points are distributed based on lobby position (where position 1 will give the most points) and then multiplied with a weight-multiplier.
Many slot games are available across betting companies. Games are made by a dedicated developer, and then the rights of use sold to multiple people. So if you find you have a favourite game, perhaps one that offers good odds, or you are just lucky with, you can then play that game across companies, utilising all the sign-up bonuses to maximise your winnings.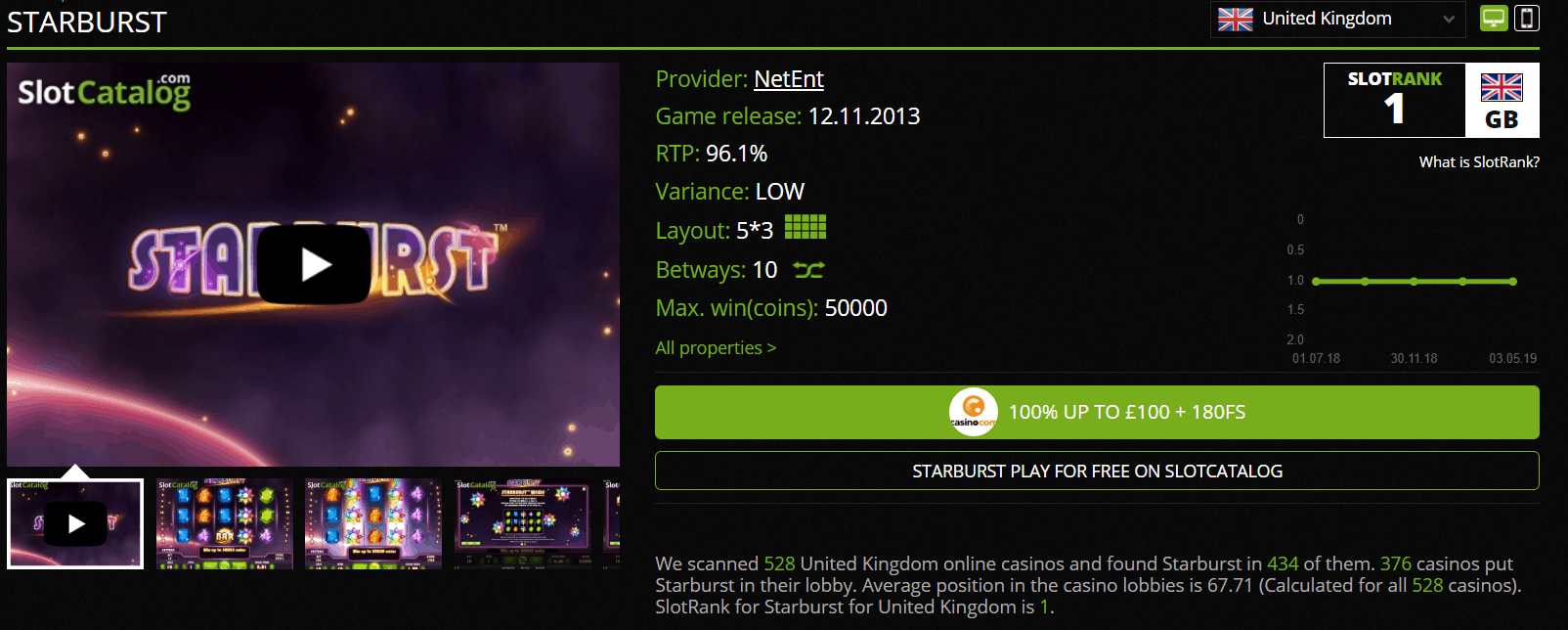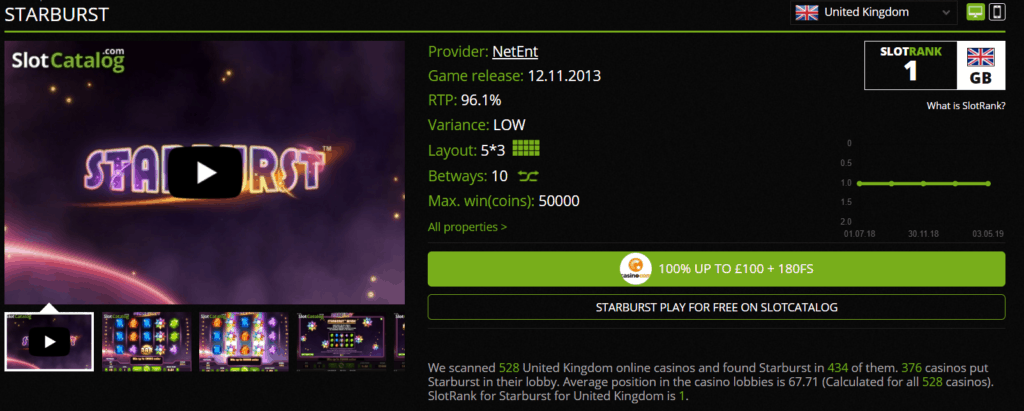 So, for example, the current top-ranked game is Starburst by NetEnt which was launched back in 2013 and has 435 options where you can play Starburst with 149 of those qualifying for the ranking criteria.
On top of this, if you want to find a new game to play, SlotRank provides a review of the games which includes the odds of your winning. They use a percentage figure to show the house advantage, so again, for Starburst the RTP is 96.1 %, and the house advantage works out as 100%-96.1% giving them 3.9% advantage of winning.
The variance and volatility rating indicates how much your funds will vary throughout the game, so with a low variance, it is unlikely you will see big fluctuations when you're playing. This generally means small pay-outs more frequently, which is advantageous if you want to make the most of bonuses.
So if you were to use this low variance game, combined with the 149 sites with their sign up bonuses, it would be quite possible for you to beat the house with the help of each bonus. So that's 149 sites you can profit from.
As well as a review of the game, including all the various statistics, most games have a play for free embed on the page, allowing you to try the game before committing any real money to it.
Overall, if playing slots are your thing, then SlotCatalog is the perfect place to find new games or available sites with your favourite games.