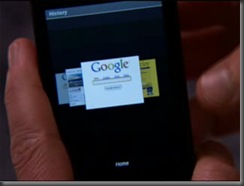 So the first images and videos of the Software Development Kit(SDK) for Googles new Android OS have been released.
From the looks of it is appears quite impressive so far. Especially if you consider it was only announced a few days ago.
After the jump we have some Images and Videos, though you should note these are all on a hardware reference model so you wont be buying an Android based phone anytime soon.
Some of the our of box support includes:
Touchscreen
3G
Webkit-based browser
Threaded text messaging
MPEG-4, h.264, MP3, and AAC file formats
Accelerated 3D graphics
One of our commenter's (Roobedoo) pointed out they were a bit disappointed by the Android announcement as they have the immense size, wealth and innovation to be really competitive with the iPhone.
While I do agree, it would be fantastic for Google to release a complete Phone+OS but I also think it could be a clever move on Google's behalf. They have 34 other companies helping them invest time and money to develop the best possible OS for a phone. Once they have mastered the OS they could look into releasing a proper GPhone, wether by themselves or in collaboration with another manufacturer. The other thing that is worth noting is that the iPhone has received a lot of flack for being crippled in certain areas (ie no 3.5g) however I would hope this would not be the case with Android based phones, some companies may release phones with slimmed down features and other companies may release super phones that can do everything. I suppose that would mean the Android user base is spread over X companies rather than one GPhone.