WinXDVD has always been well known for their tools to rip DVDs into various formats, but as we have moved away from DVDs, WinX has broadened their horizons with the HD Video Converter Deluxe. Since 2006, WinXDVD has been around for 12 years now, and as part of the twelfth-year celebration they are giving away 500 copies per day of their 4K video converter – WinX HD Video Converter Deluxe.
Compress 4K to 1080p video, get WinX HD Video Converter Deluxe for free>>
WinX HD Video Converter Deluxe is designed to convert 4K to 1080p, MKV/HEVC to MP4, etc. while also allowing you to resize (compress), download, edit, crop, cut, merge and more. With so many devices being able to record in 4K nowadays, and the files sizes so large it has become more important to be able to compress files. This giveaway will allow you to compress 4K to 1080p free. The giveaway gives you a full copy of this UHD video processor with all its features, or for $29.99 you can get a copy with lifetime updates and tech support. If you choose to buy a copy there is a 30-day money back guarantee if you decide you are not happy with your purchase.
If you are a serious content creator and need a more feature-rich 4K video compressor, there is the WinX HD Video Converter Deluxe which is available for $29.95 which is around £23.
If you already create content in 4K you will already know how big the files can be; a Panasonic GH4 recording in H.264 at 4K DCI with an FPS of 24fps will need 42GB per hour. If you were to convert your footage to HEVC, you could compress the files size by up to 50%.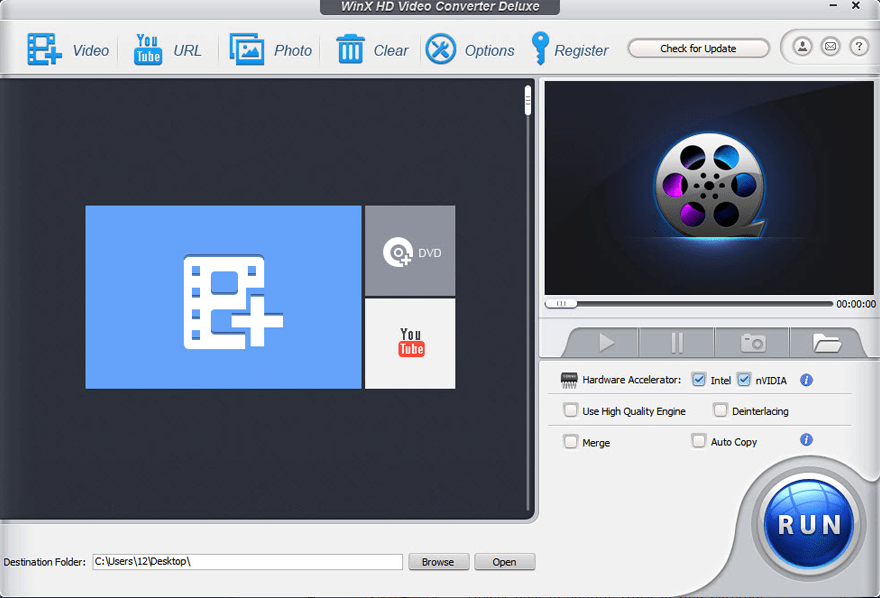 WinX HD Video Converter Deluxe perfectly supports SD, 1080p multi-track HD and 4K UHD videos HEVC, H.264, MPEG-4, MKV, M2TS, AVCHD, MOD, Blu-ray videos, content filmed by various camcorders / drones, MP4, AVI, MPEG, WMV, MOV, VOB, FLV, RMVB, WebM, Google TV, etc. It has 410+ preset profiles to convert SD/HD/UHD movies and videos (e.g. MKV to MP4) for playing on Apple (iPhone, iPad, Apple TV, iTunes), Android (Samsung, Huawei, LG), Microsoft (Xbox, Surface), Chromecast, Sony device, etc offline anywhere anytime.
The 4K video converter will also allow you to intuitively download content from YouTube and over 300 additional sites, as part of the process you can then convert to any file format or size you want.
Why WinX HD Video Converter Deluxe is the best 4K video compressor?
With WinX HD Video Converter Deluxe you get full level 3 hardware acceleration which uses your GPU with Intel QSV, MMX-SSE, Nvidia CUDA/NVENC, Hyper-threading and AMD 3DNow! to dramatically improve the 4K video compression speeds achieved by the software using. It will offload CPU burden maximally, reduce power consumption for video decoding and encoding, and motivate CPU and GPU to work together in an optimal and coordinated way. Hardware acceleration will boost video processing speed by 2-3 times faster or even higher dependant on your GPU specification.
Normally GPU acceleration just uses the GPU for encoding only, which is classed as Level 1. Level 2 uses the GPU for decoding and encoding, and then Level 3 acceleration takes things further by using the GPU for processing too.
Using the level 3 hardware acceleration processing WinX claim that HD/4K video conversion can be 16 times faster than purely software-based encoding and five times as fast as other encoders that claim to do hardware acceleration.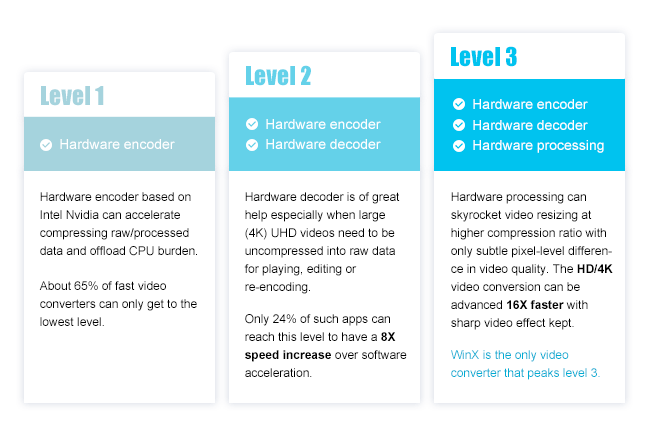 How to compress 4K to 1080p for free with WinX HD Video Converter Deluxe?
With the video converter once you have set up the software converting the files is a very easy process, you just need to import the 4K videos you want to convert, select which profile one of the 410+ profiles you would like to use and make sure you set the hardware encoders to be on to get the best speeds, then start the conversion process.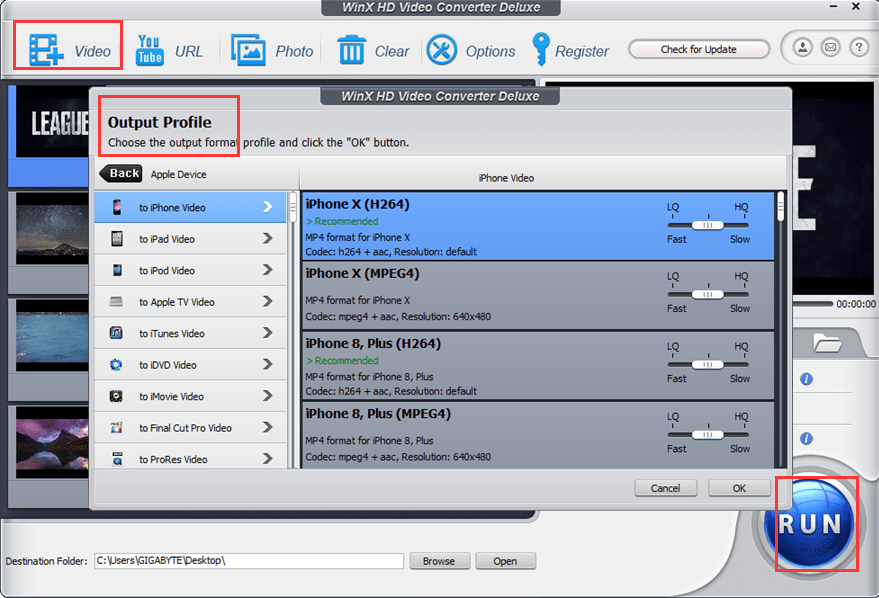 You can carry out other functions on the file too such as various editing features such a trimming the video length, cropping to remove black edges or even merging multiple videos into one.
For a video that has no audio, you can add music tracks or other audio to go over the video.
Once you have done the basic editing you can also apply subtitle tracks to any video you have processed, and you can alter the volume levels if there are issues with low or high volume.
There are multiple other tools that are available on the site which includes a free video converter which lets you easily convert video files or videos downloaded online to MP4 and other formats. Whether you want to convert MKV AVI MTS AVCHD, edit your HD video, or save (YouTube) contents, it all gets done at lightning speed.
Overall, if you need to convert and compress video files on a regular basis this is probably the best solution available today.