Messenger is one of the most popular messaging platforms in the world. Each and every day, Facebook (but not only) users use Messenger to send more than 45 million messages. As for many businesses it is important to remain in touch with their customers, they are increasingly more often using modern solutions such as chatbots.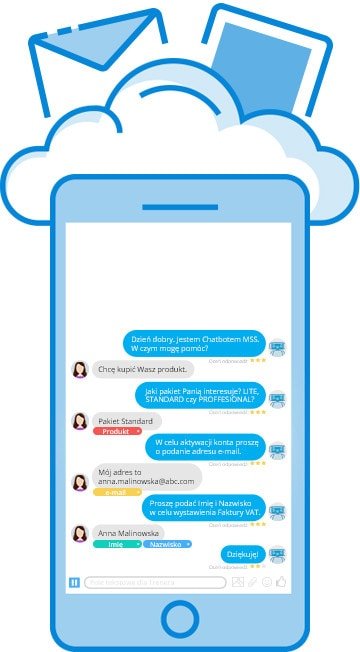 One of the primary strengths of Messenger is the fact that users have 24/7 access to it through their mobile device or a computer. Therefore Messenger chatbot has access to all the information it requires on a given subject, and its responses are lightning fast. The benefits are immense – financial savings as well as better customer satisfaction. In many respects communication with a bot is more convenient: it is less formal, which might encourage the customer to ask questions which they might otherwise feel uncomfortable with; it is easier to receive information on Messenger rather than having to look for it in an in-box. Chatbot as a shopping assistant available in Messenger works really well for on-line shops. Many businesses use such a solution: the bot might help with selecting colour or style of makeup depending on your age or to suit given clothes. Foundation or lipstick chosen in this way can be purchased immediately as all we have to do is say a word and we'll be redirected to a given shop website.
Messenger chatbot is also great for handling prize draws and competitions. Until now, just processing competition entries received from a fanpage consumed a lot of time. Well, from now on a dedicated Chatbot can take over that function, verify whether entries have been submitted correctly, their compliance with the T&C, draw winners and inform them of their success.
In order to make use of Facebook's Messenger, all you have to do is implement it on your website – the exact manner depends on the software you are running. Then you will have to select a number of options available in Messenger Chatbot, and if a more intelligent bot is required, you will be able to make use of special software to teach it. Do not forget that our specialists can also create a personalised and dedicated bot. They will configure it so that it learns appropriate behaviour, remembers, processes received data and as a result answers customer questions with ever more professionalism.
Use of a chatbot on your company website will not only make it seem more professional and have a positive impact on your company's image, but will also significantly improve communication with customers and deliver not insignificant savings as compared to traditional customer service provided by full time staff members.
Text on the basis of: https://www.mysocialseller.com/?lang=en