Mixing up our goodies from CES this year we'd like to tell you about the new range of cameras and mini-camcorders from those camera whizzes at Kodak, all with portability and connectivity on the mind to deliver what appears to be"what the customer wants" from a modern day camera.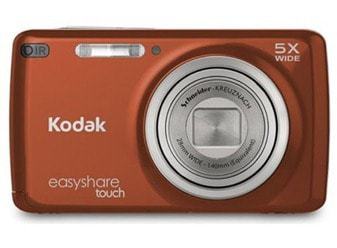 Firstly the Easyshare Touch digital camera. On the rear is a 3" capacitive touchscreen for all your controls and options. Behind the fantastic 5x optical zoom Schenider-Kreuznach lens is a massive 14MP sensor, more than adequate for your fun day-to-day snaps. Not only that it has a HDMI out port. Connect the cam straight to your HDTV and view the goodies you've been shooting.
Next is the Easyshare Mini which is Kodak's smallest camera yet and is the size of a credit card. The nifty function on this is a mirror on the front of the camera. Perfect for those self-portrait shots of yourself and your friends. It has a 10MP sensor so still great snap quality and a 3x optical zoom, wide-angle lens. On the rear is a 2.5" LCD screen to view your pics too.
For the more adventurous of us there's also two small camcorders too. The first being the Easyshare Sport. Waterproof to 10m, dust and dirtproof. Ultraslim, the camera is capable of Full HD 1080p capture and has sharing capabilities to fling your vids straight to your favourite video sharing site or social network.
The model up from that, shown above is the Easyshare PlaySport. Combining the skills of the Easyshare Sport (waterproof to 10m) adding shockproof as well as dustproof, this camera can also take 1080p video but also 5MP stills too. Again the share function is available.
No pricing or dates yet but could be worth keeping an eye on if you're an adventurous type who wants a super portable camcorder.