As much as teenagers consider themselves grown-ups and independent, the fact is they require parental attention the most. The need for parental surveillance has intensified with the passage of time due to the influence of technology in the life of today's teens. Teenagers are vulnerable to digital addictions more than ever. From screen addiction to texting and gaming addiction, there are several ways that keep your child busy and engaged in their mobile phones.
With the rise of technology, Android devices have become widely popular among teenagers which is why many smart parents have started taking benefits from the Android parental control apps to keep kids safe and secure on the web, in this digital age.
One such app which keeps parents updated is the FamilyTime app.
FamilyTime app is compatible not only on Android devices but also on iPhones. It works with the consent of your children and provides you a great chance to teach your kids the importance of parental surveillance. While using the FamilyTime app, you don't have to worry about your teen finding out that you are spying or snooping on them digitally.
Want to give this app a try for free? You can! Get the app now with access to all premium features now by visiting the app store on your phone.
Here is a list of the most prominent advantages that an Android Parental Control App such as FamilyTime android parental control provides: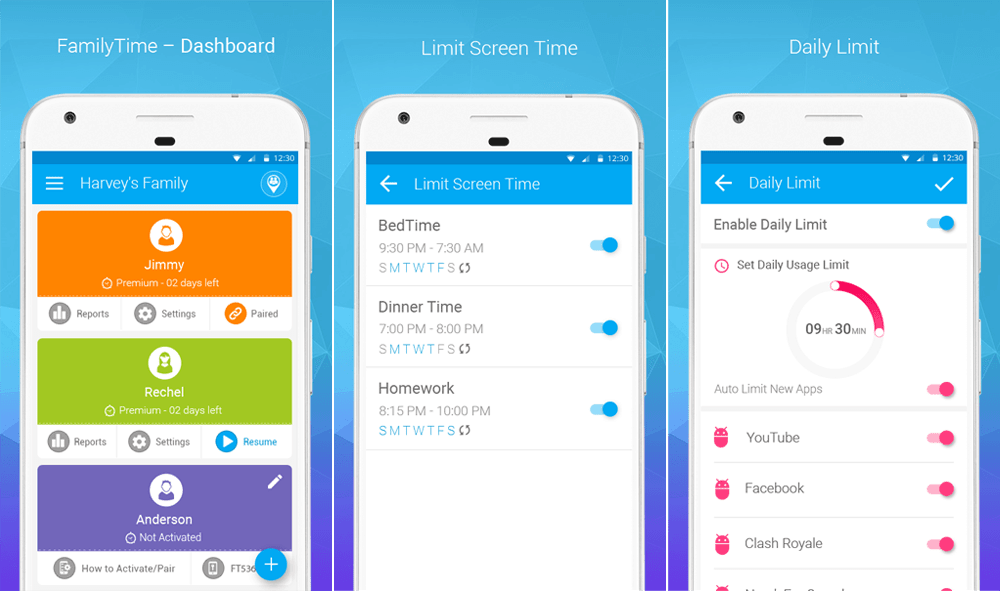 1.     Prevent Kids from Using Questionable Apps
There are some apps that you may not consider appropriate for your child. FamilyTime lets you block all such questionable apps. You can block the addictive apps as well. For instance, if your child is becoming addicted to social apps such as Facebook or WhatsApp, you can block your child's access from such app for a certain period of time.
2.     Stop Kids from Exploring Inappropriate Content Online
Even when your child is not searching for vulgar content on the web, they may come across such content while surfing online. With the help of FamilyTime parental control app, you can check web browsing history and frequently visited URLs on your teen's Android device and can stop them from accessing inappropriate content on the web.
3.     Avert the Chances of Digital Addiction
When you install an android parental control app, you can easily regulate your kid's screen time. Using the FamilyTime app, you can schedule an auto screen lock on your teen's Android device. This practice enormously helps parents to stop their kids from developing different screen addictions.
4.     Keep Tabs on Kids When they are Outside the Home
FamilyTime lets you track the current whereabouts of your teenager. You can check the location history to see what places your child has visited recently.