Whether or not you have a managed account with your hosting company it pays to understand how your website works, how your files are manipulated and how to self-manage your sites as much as possible. Server management is an integral part of managing your websites and will directly impact the experience of your visitors. A recent survey showed that more than 750,000 live websites use cPanel with a combined 1 million individual users. The best way to describe cPanel would be the beating heart of your website and web hosting account. It is the ultimate web host manager and using a cPanel for business websites can improve productivity and efficiency. So, why is cPanel so popular?
Visually perfect and easy on the eye
The extension to log into your cPanel is simple, domainname.com/cpanel. At this point, you are hit with a visual array of options (entry is obviously password protected). At first glance there is a lot going on. There are plenty of options and it can be difficult to know where to start. However, if you look at each section bit by bit it will start to take shape and you begin to understand the various elements of managing a website. However, you do need to ensure there are no accidental deletions or edits!
To begin, there are a number of basic themes which you can use for your cPanel. Therefore, it is worth taking some time to find the one that works best for you. We will now take a look at the various sections in a traditional cPanel and how they can assist you in managing and securing your website.
CPanel dissected: File section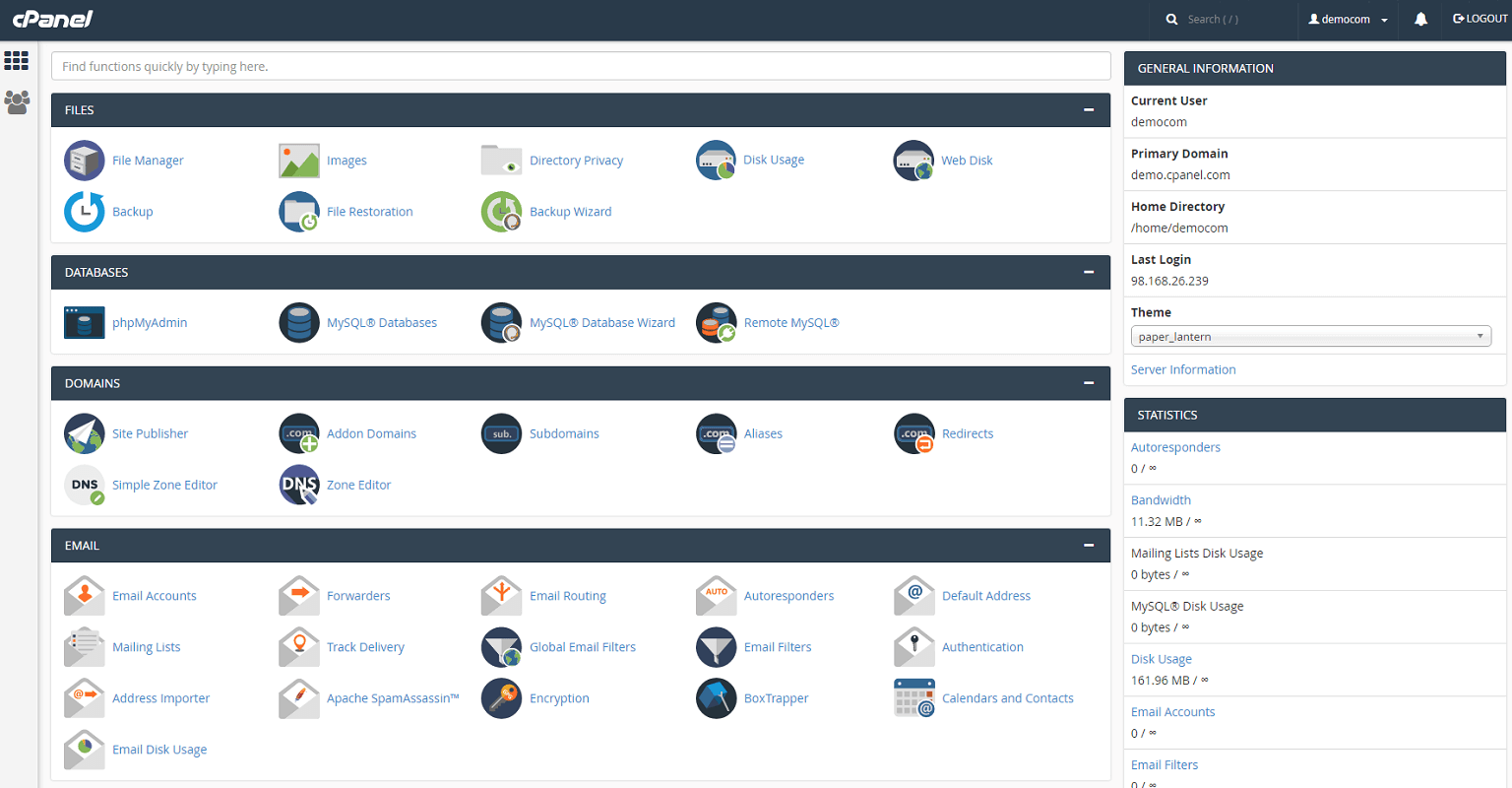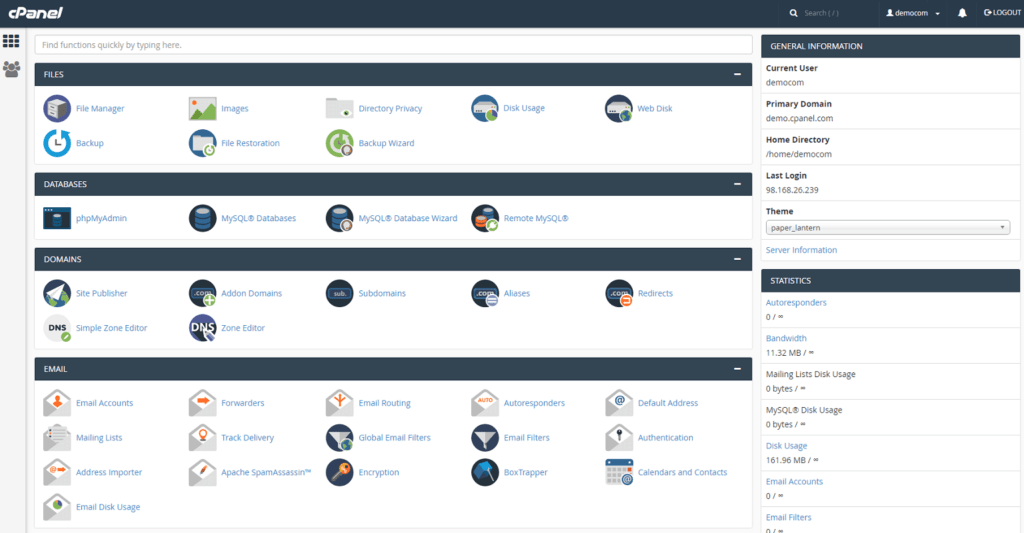 As you might expect, this section has an array of options to look at, edit, move, copy and backup all of your files. While each cPanel front page set-up can differ, some of the more traditional options include:
File Manager
Images
Disk Usage
FTP Connections
Backup
Backup Wizard
The beauty of cPanel is that it is so flexible to use. In fact, you can add and hide various options which you may or may not use. For those with a basic knowledge of website files, themes and coding, the File Manager function is very interesting. This allows you to literally look at all files on your server, sorted by directory, make copies, import, export and make changes where applicable. This is also a useful function when looking to find hacked files and malicious code.
While the vast majority of web hosting companies will have an automatic backup facility, perhaps once every couple of days, you can also instigate a manual backup. There is also the option to upload a recent backup for example where some of your files have been compromised and you need to revert to a time when all was well. FTP connections allow you to remotely access files on your server although you do need to ensure this is done within a safe environment.
Databases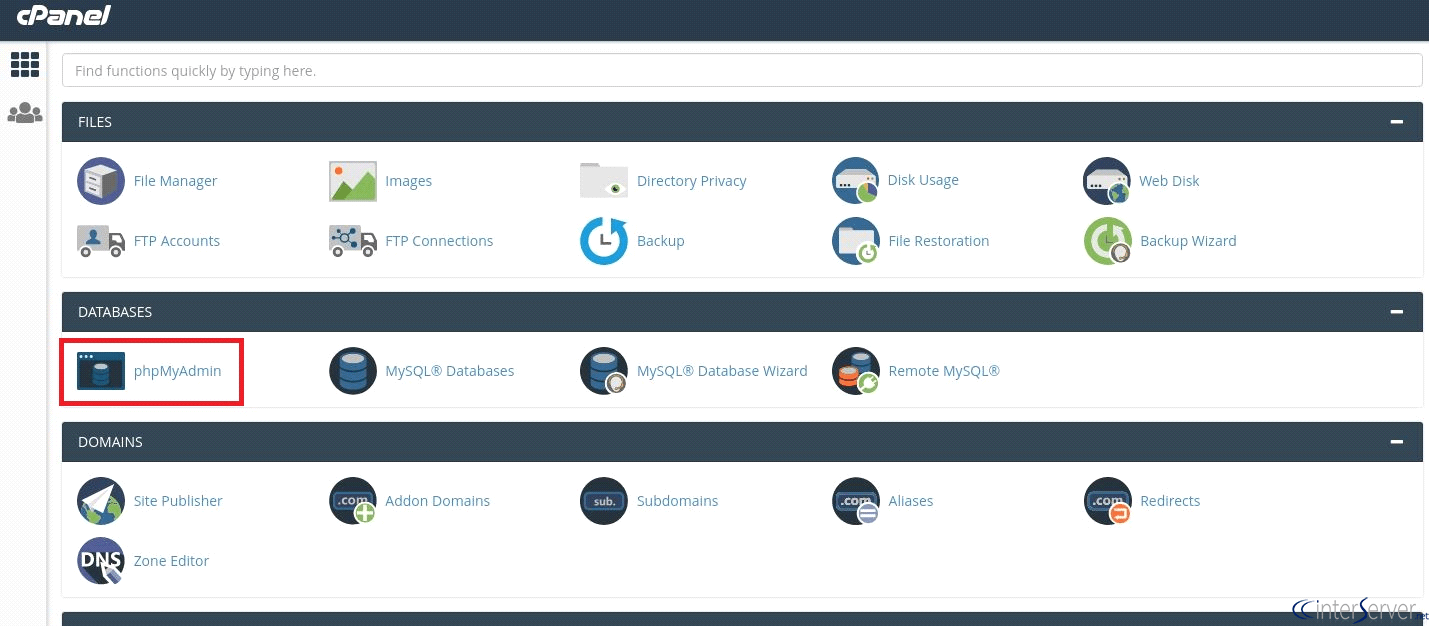 While it will depend upon the type of website you are operating, the database section allows you to access and view raw data held on your server. The phpMyAdmin option offers a simple way into the MySQL databases where you can edit, delete and make various amendments – however this is for those with experience!
If for example, you had a WordPress website which had been hit with a flurry of spam, we may be talking thousands upon thousands of spam messages, this would take hours to delete manually. It is possible to access the WordPress database and run a function which will delete all comments matching certain conditions. This is just one example of the way in which you can manipulate the data held.
Domains
When looking to amend the way in which your domains are structured, possibly including sub-domains and aliases, not to mention redirects, it is advisable to take advice from your hosting company if you're unsure. The domain section is extremely easy to use, in many ways self-explanatory and very useful if you are looking for something as simple as a redirect. Like all areas of sections in the cPanel it is highly advisable to take advice if you have any uncertainty.
Email section
There are a variety of options in the email section from forwarders to auto responders, spam filters to email disk usage. The full list of options includes:
Email Accounts
Forwarders
Email Routing
Autoresponders
Default Address
Mailing Lists
Track Delivery
Global Email Filters
Email Filters
Authentication
Address Importer
Spam Filters
Encryption
Calendars and Contacts
Email Disk Usage
The email accounts option gives you a snapshot of an individual accounts. This is exceptionally useful for users with multiple even hundreds of emails to manage. In fact, it can even help in identifying potential hacks and spam problems. At some point, you will likely come across malicious data injected into some of your files. This may result in literally thousands of spam emails being sent to various third parties – apparently from you. The track delivery option allows you to see which emails have been sent out and to where – if spam email issues are not addressed ASAP this may see your IP address being blacklisted (a major problem!). The email section also gives you the option to manipulate, store, auto delete, create automatic forward instructions and import addresses that you may wish to use in the future.
Metrics


There may be relatively few options in the metrics section but this is to all intents and purposes the business end of your website. It allows you to access traffic and usage data in either very basic or graphical form. Some of the more common options include:
Visitors
Errors
Bandwidth
Raw Access
Analogue Stats
Metrics Editor
CPU and Concurrent Connection
While all of these options will play an integral part in allowing you to monitor traffic and data usage, the error option may prove priceless in months to come. This shows a list of all errors associated with your website such as missing images to incomplete tasks and much more. If you believe there may be an issue with hacking, file access or images have been corrupted, you will be able to check the latest few hundred errors. This will alert you to problems with your website, many of which you can fix fairly easily – often improving processing speed.
As we touched on above, the ability to look at raw traffic data, popular pages and third-party sites directing traffic to you is priceless. While the likes of Google Analytics offer more graphical representation of your traffic and associated data, do not underestimate the ability to access raw traffic data.
Security
Security is obviously paramount when it comes to your website. Especially in terms of protecting your own data and the privacy of your customers. This section allows you to block dubious IP addresses and manage SSL certificates and various protections. Something as simple as the ability to block IP addresses which have tried to hack your website on numerous occasions is extremely useful.
Software
The software section offers you the ability to load an array of different software packages onto your cPanel. Thanks to this software, you can download popular content management systems such as WordPress with a touch of a button. Gone are the days when you had to manually upload WordPress to your server, set-up the databases and hope for the best.
Advanced
As suggested, this section is for those with a wealth of knowledge of hosting accounts and website file manipulation. Some of the more common options include:
Cron Jobs
Track Dns
Indexes
Error Pages
Apache Handlers
Mime Types
Virus Scanner
As we touched on above, options such as Cron Jobs are integral to the way in which your website operates and the various automatic processes.
Preferences
You guessed it! There is the opportunity to change various elements of the cPanel design and security with options including:
Password and Security
Change Language
Change Style
Contact Information
User Manager
It goes without saying that you should change your password on a regular basis. It's also important to manage third party user access in a manner which protects the integrity of your website.
Summary
There is no doubt that web host manager package cPanel is a very useful tool and one which is often underestimated by website owners. While there are various options which is primarily for those with experience, there are others which give you an insight into how your website works and any potential issues. Something as simple as, 'an error list' can highlight a number of issues such as attempted hacks, missing files, incomplete processes and much more. Your website processing time tends to suffer from the number of errors. In simple terms the fewer errors the better the experience for your visitors.