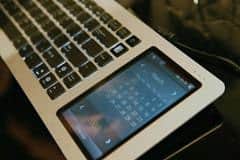 There doesn't always seem to be that much innovation when it comes to PCs/Laptops. It normally consists of sticking a computer in a box of varying sizes and maybe attach a screen/keyboard/battery to it.
Granted Asus technically do the same but over the past few years they have at least been trying to put a twist on things. They basically carved a new niche in the computing world with cheap netbooks, they are trying to do the same with desktops by releasing the EeeBox and now they have announced the Assus Eee Keyboard.
At first this looks like Asus are releasing a keyboard that is just ripping off MacBooks, but this is not the case at all, this is not just a keyboard but an entire PC built into a keyboard with a 5-inch touchscreen display.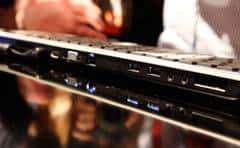 Obviously the this is no gaming PC, the specification is more of a netbook with it using a 1.6GHz Intel Atom microprocessor, 1GB of DDR2 DRAM, 16GB or 32GB SSD. It also has a bunch of connectivity including Wi-Fi 802.11b/g/n, Bluetooth 2.0, Ultra Wideband HDMI USB 2.0 x2, VGA, HDMI, headphone and mic ports.
The interesting thing to not is the use of Ultra Wideband HDMI. This is wireless HDMI which will essentially allow you to connect to all your devices wirelessly (not including the power cord).
It would be amazing if they could up the specification enough to make it suitable for a HTPC.
According to Asus CEO Johnny Shih the Eee Keyboard will be available in the next 3 – 6 months.
There is no word on pricing yet.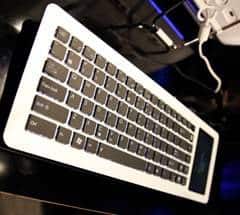 Via Boy Genius