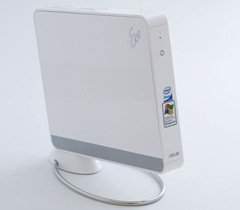 Well we have all heard of the Asus Eee PC but now Asus are hoping to do to the desktop market what they did to the notebook market.
As you can see from the picture the Asus Eee Box is an ultra small desktop PC and is expected to cost $349 in the US or around £200 – £220 here in the UK.
The Eee Box is also the smallest fully functioning PC on the market coming with either Windows XP or Linux.
It is expected to be released on 21 September 2008 in the UK or August 11 in the US.
So what do you get for £220? Well the specification of the system is as follows:
Hardware / Ports / Accessories
Intel Atom N270 (1.6 GHz, FSB 533)
1024MB DDR2 667 Memory
80 GB Hard Disk
On-board Intel GMA 950
10/100/1000 Mbps LAN, 802.11n WLAN
Azalia ALC888 Audio Chip
USB x 2
Card Reader x 1
Headphone-out jack (WO/SPDIF) x 1
MIC x 1
USB 2.0 x 2
Gigabit LAN x 1
DVI out x 1
Line-Out (L/R) with S/PDIF x 1
WiFi antenna
19Vdc, 4.74A, 65W power adaptor
Mouse
Keyboard
VESA mount
WiFi antenna
Stand
Software
Either Windows XP Home Edition or Linux
StarOffice or MS Works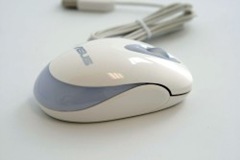 The guys over at  Hot Hardware have had chance to review the new Eee Box. Apparently the system is the smallest full function PC they have seen to date. It also has some room for overclocking and Hot Hardware managed to increase the processor from 1.6Ghz to 1.75Ghz while maintaining stability.
The Atom processor runs at an astonishingly low 2.5 watts and actually managed to keep up with AMDs 35 watt Turion 64 ML-37. The CPU outperformed the AMD Sempron 2800+ (1.6GHz), the Pentium 4 at 2GHz and the Athlon XP 1600+ (1.4GHz)
In terms of the multimedia capabilities the Eee Box managed to handle a 720p WMV clip quite comfortably with around 35 – 50% of the CPU being utilised. It unfortunately did not perform quite so well with full 1080p and the reviewer found it choppy and the video stopped in certain places.
The Eee Box managed to impress with its low overall power consumption. At peak it only used 22.3 Watts!!
Overall the general opinion of the Asus Eee Box was excellent. It is a bargain price, miniscule in size and performs well.
Personally I would skip XP on a system like this and stick with Linux. I am thinking it would make a nice little server for my test sites and also to handle my downloads.