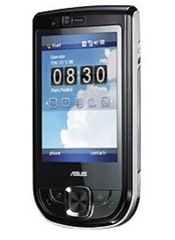 Asus announced yet another smartphone, though no info on a release date. The is supposed to be the fastest Business PDA Phone in the World, running a Marvell TavorP 800MHz CPU at 800Mhz and Windows Mobile 6.1.
The phone is fully touch screen and uses the Asus Glide touch-responsive user interface. Glide enables users to perform a variety of navigational actions—such as selecting, zooming, scrolling and flipping with simple flicks of the finger.
Other features include a 2.8 inch screen with VGA resolution, HSDPA, Wifi, 3MP camera, microSD card slot, and 3hrs with 3G and 4 hrs with 2G battery life.