Apple iPad maybe stealing all the headlines as usual but let us just remember there are other tablets out there worthy of getting a shout, Apple isn't the be all and end all when it comes to tech. I've had an Archos 605 for the past 18 months and it still gets used regularly, they make a mean gadget.
Anyway last week the specs on the soon-to-be Archos 7 Android tablet got the leak. If the recent Archos 5 wasn't quite enough for you then the 7 is it's big brother. With a 7" 800 x 480 screen what makes Archos greater than an iPod touch or maybe the new iPad is the sheer amount of filetypes it plays is much greater. MP4, WMV, AVI, and FLAC. Plus one up already is the ability to download FLV(thats flash to you and me) files and playback those too.(see image for Full Specs)
The Date has been set for the end of March(iPad release ouch!!!)  but should be priced at a very reasonable £150.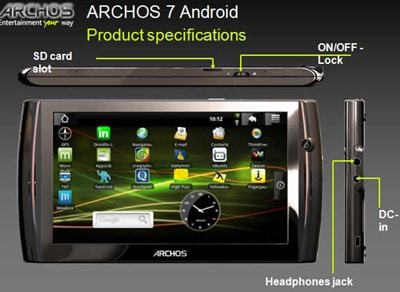 click on for the full specs!!