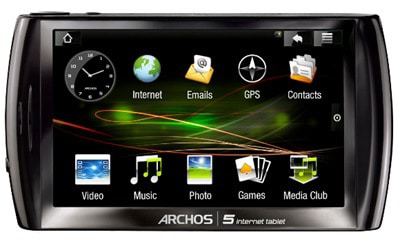 We may have touched on the rumours of the French gadget whizz's next internet tablet but now Archos have officially confirmed the details of the new Archos 5 powered by that wonderful Android.
Packed with loads of features as Archos products always seem to the tablet comes in many memory size varieties from 8 to 32 GB in the super thin Flash memory configurations (with a micro SD (SDHC) card slot) or from 160 to 500 GB in a hard drive version there'll be one that fits your memory requirements or your pocket limitations. Read on for specs and price.
Full Specs and features :
800×480 pixels, 4.8" TFT LCD Touchscreen
Supports most video and audio playback types
Standard Photo Viewer
Support subtitles files with .srt, .ssa, .smi, .sub extensions
Video/Audio recording, including 720p HD playback (Via the optional DVR Station or DVR Snap-on)
WiFi (802.11 b/g/n)
Bluetooth 2.0
FM transmitter
FM receiver (RDS)
Music playback time: up to 22 hours
Video playback time: up to 7 hours
GPS
Also being an Archos it has a full range of accessories and downloadable add-ons from the Archos store. It already has a handful of applications installed onto the unit but obviously as its android base, no doubt a lot of third party apps will appear for download. The only downside is it doesn't have HSDPA so the web connection will have to sought via wifi or you can piggyback a mobile 3G connection using bluetooth.
The Archos website only has the prices listed as £274.99 for the 32GB SSD version and £299.99 for the 160GB hard drive version.