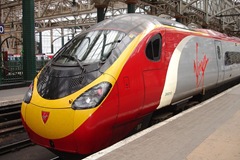 A slightly off topic post but this weekend I had the pleasure to go down to London to attend the Stuff Live Show 2008. I am lucky enough to live in sunny old Blackpool so getting a train to London was the best option.
Unfortunately while the show was excellent, and my accommodation was good enough I found my experience with Virgin Trains less than pleasing.
I booked our tickets in advanced on thetrainline.com costing me a grand total of £137.50 for 2 people. I know this is not a lot of money but it is quite expensive when the accommodation for 2 nights cost less, and I for £100 for 1 person I paid for a flight to Geneva. I could also book a flight from Blackpool to Barcelona at the weekend for 2 people including taxes and fees for £60.89.
Granted it is common knowledge that trains are not cheap while flights can be. The real problem I had was when boarding the train at Preston there was 4 1st class carriages and 3 2nd class carriages. With a good chunk of one of the 2nd class carriages been taken up by the food and drinks section.
This therefore meant that the train had already filled all the seating area by the time it arrived in Preston so we were forced to stand.
Each stop after Preston more and more people got on to the train, to the point where it was physically to crowded to move, it was impossible to move down the carriage to the toilets. To say I was a little too close for comfort with the man standing next to me would be an understatement.
When we were an hour from London one of the staff on the train kindly informed us we could use the 1st class seats. It was actually so full we still had to stand, but at least I could breathe.
I realise trains are busy, and if it looks too busy I you should just wait until the next one, however I think a train company should take some responsibility, the train was overcrowded to the point I am pretty sure they were breaking some health and safety rules. If the train gets to the point where it is too full a member of staff should stop people boarding.
I also like the fact they repeatedly announced that we should pay attention to their safety posters. Yeah if I could bloody breathe let alone move I may of read it.
I also have to question what kind of moron thinks that putting 4 1st class carriages and 2.5 standard class carriages on a busy train is acceptable? I quickly checked online and the first class return fair would cost me £370, I can't see many people taking that option!
I am just glad I wasn't hungover on Saturday or the 10+ people I was crammed next to would of had me projectile vomiting on them for 4 hours!