This week AMD did their Q4 Earnings Call which showed the highest profitability for seven years and a second straight year of significant revenue growth, market share gains, expanded gross margin and improved profitability based on their high-performance products.
During the announcement they forecast further growth this year in the "high single digit percentage" range.
Part of this confidence was revealed by AMD's Lisa Su when she was questioned by Ross Seymore from Deutsche Bank
.. as we see the GPU business right now, we see the first quarter as the low point in the business with the channel getting improving as we go into the second quarter. And we have additional product launches there as well. So that's the way we would see the portfolio.  
Our gaming growth will be driven by new products. We would see that as we go through this year and with our Radeon 7 launch, as well as our Navi launches on the gaming side.
AMD Navi is being hyped as a true competitor to NVIDIAs domination within the GPU market. Many hope Navi will do to the GPU market what Zen/Ryzen did to the CPU market.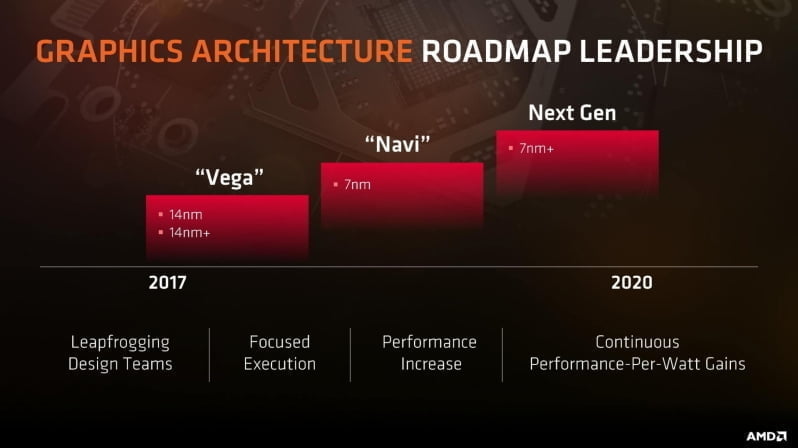 Navi is the first GPU architecture that was designed with 7nm in mind from the outset, and is expected to deliver a notable performance and efficiency leap over the company's existing Vega-based and Polaris-based offerings.
There is not really a great deal of information about Navi at the moment but early roadmaps used the words "scalability" and "Nextgen Memory" to describe what the new architecture would offer.
This new announcement has suggested that t AMD's initial Navi offerings will be revealed/launched at or around Computex 2019, which takes place in late May/early June, suggesting a mid-late Q2 launch.
In previous leaks it has been suggested that high end AMD Navi 20 GPUs may not arrive until 2020. This rumour still holds true, as it was expected that this year will be a Navi 10 mid-range card while it will be next year for the flagship products.
It is believed that AMD have been in no rush to release the consumer cards as they have been developing custom GPUs for both the PS5 and XBOX Two.