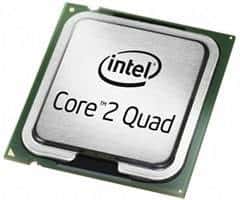 According to BetaNews, the Intel is cutting prices on quad-core 'mainstream' chips by up to forty percent in response to the launch of the Phenom II X4 range from rival AMD. In order to compete with the Phenom II X4 940 3.0GHz processor – which is sold in batches of 1,000 for $275 – Intel is slashing the cost of its 3.0GHz Core 2 Quad Q9650 from $530 to $316.
However just a few hours after this announcement AMD responded by cutting the prices for its new 45nm Phenom II CPUs.
According to Bit-Tech the prices haven't affected AMD's official price list, Novatech and Newegg have reduced the price of both the 940 and 920 processors.
In the UK, the Phenom II X4 940 Black Edition was selling for around £220 including VAT and Novatech is now selling a boxed retail Phenom II X4 940 for under £190. Meanwhile, the 920 was selling for about £190 and Novatech now has it down at £160.
Granted it could be possible that the AMD price drops are just retailer related but it is quite a big coincidence that  large companies drop the prices at the same time.
The important thing is that price drops are good for us as the consumer!