When iOS 4.2 came out to update your iPad, iPhone or iPod Touch it opened the ability for AirPlay functionality. Basically AirPlay was Apple re-branding its AirTunes feature allowing compatible products to stream your media from iTunes through your home network whether it be photos, video or your music from any thing running the supporting operating system. There hasn't been a mass amount of supporting products but today we have two new docking stations. One is the probably "reasonably priced" JBL On Air and the other a rather odd-looking and expensive Philips Fidelio Soundphere.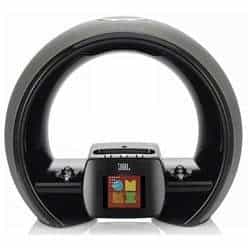 The JBL is ring shaped to distribute sound and the AirPlay tech allows you to stream your goods to it directly from your iPod/iPad/iPhone or any computer on your network running iTunes. It also has the traditional docking port for people without the AirPlay function and a colour LCD to tell you what's going on as well as showing Album art too. It also has an FM radio Tuner and alarm clock options too. Sadly JBL haven't put any release dates or prices as of yet but most of their other products are reasonably priced.
Yes they're speakers. Looking like something out of a sci-fi movie these certainly are the future of iPod docking stations. Again using the AirPlay function you can hook up your compatible device and stream away. The odd shape isn't just aesthetic though and has been designed to increase the quality of sound. The little speakers that stick out the top like antennae are tweeters. No not something to do with social networking but a loudspeaker designed to produce high audio frequencies. The difference between these and the JBL ones will most certainly be the price as these are being pencilled in at €799 or £687.