During the weekend in Dublin, Acer had set up a Revo One for us to check out. This was perhaps the most interesting device of the weekend and a shame I couldn't get more chance to play with it.
The Revo one is basically a minuscule low cost desktop PC, that's also marketed as a media streamer and NAS drive in one.
There are multiple specifications with the base model costing £240 and coming with Intel Celeron 2957U 1.4 GHz, 4 GB RAM, 1 TB HDD, LAN, WLAN, Integrated Graphics, Windows 8.1.
Pricing goes up significantly to £650 for Intel Core i5-5200U Dual-core 2.20 GHz, 8 GB RAM and 4 TB HDD + 60 GB SSD.
The claimed NAS functionality is from the additional twin SATA ports with RAID technology allowing you to expand the storage considerably.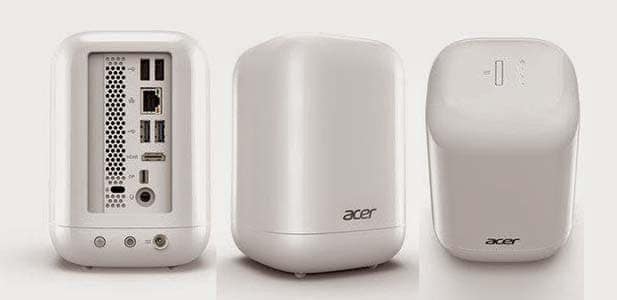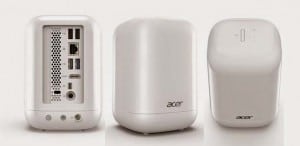 You can also expand storage further with external drives or add accessories using the 2 USB2.0 ports and 2 USB 3.0 ports.
Wifi is standard with 802.11n and there is also a Gigabit Ethernet port.
With the boom in low cost media streamers such as the ChromeCast, Fire TC and Roku it may seem odd to release a device that's so expensive targeting a similar market. But this is far more functional than any media streamer on the market and is more akin to Intels NUCs but more attractive and all the components put together for you.
The PC is very small and extremely attractive in a white gloss shell that would easily fit in an AV cabinet or look perfectly nice on a shelf near the TV. It comes with its own wireless keyboard and mouse that is the same size as most TV remotes. You can also download an app which will allow you to control the Revo One via any mobile device.
During our brief time with the device it performed exactly as you would expect for most PCs, it ran Windows with no lag and played all our media fine.
Overall this seems like a brilliant little device, pricing is not far off an Intel NUC that is kitted out, but you get a very attractive case, with significant options to expand the storage and an extremely useful keyboard/remote.