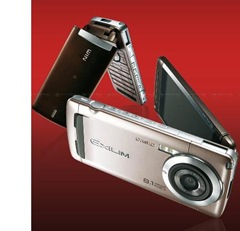 With more and more phones concentrating on the camera aspect of the phone it may come as no surprise that Casio has decided to get involved in all this cam-phone malarkey.
Casio will be releasing in Japan a new EXILIM powered mobile phone featuring an 8.1 camera with a 9 Point auto-focus and a wide angle, the W63CA. The phone will also feature a 3.1-inch WVGA screen.
Casio have decided to go with a dual LED flash over a Xenon flash, which is a bit of a shame as LED flash tends to be a bit rubbish.