Now I'm a big fan of the Panasonic Lumix range(owning a TZ-65) so i'm always excited to see what cameras Panasonic are putting out. Now we will have the DMC-FS10 and FS11, the DMC-FS30 and FS33 and also the DMC-FP1 and FP3.
The DMC-FS10 and FS11(pictured) are a 12.1MP and a 14.1MP camera respectively. Both have a 28mm high quality wide angle LUMIX lens and both give 5x Optical Zoom. Turn it round and you have a 2.7" 230,000 dot LCD screen and boasts a light sensor to adjust the brightness when required. Both can shoot 720p movies at 30fps as well as 640x 480 and a wider 848×480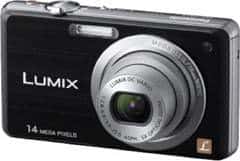 The DMCFS30 and FS33 again both contain a 28mm wide angle but are capable of 8x optical zoom. The only difference between the two cameras is on the flipside with screens being different. Both have a touch panel LCD screen only the FS30's is 2.7" and the FS33 is 3"
Then we have the FP1(pictured below) and FP3. "Ultra-slim, Super Stylish Cameras with Folded Optics, Intelligent Auto Mode and Sonic Speed AF" say Panasonic. Both again with 4x Optical Zoom. The FP1 is a 12.1MP with a 2.7" screen and the FP3 is a 14.1MP with a 3" screen.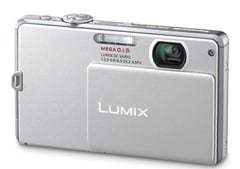 Pricing and availability are unknown and will probably be released sooner to release.