With the world fighting a battle against the pandemic more so than ever, now is a time when streamlining business operations and making it more efficient has become all the more evident. Fleet management software uses telematics and satellite tracking to keep an eye out on your vehicles, but there's so much more to fleet management solutions than merely installing software and deploying hardware devices onto the vehicles.
Here are five ways how good and efficient fleet management will positively impact your business –
1. Enforcing Road Laws And Driver Safety
Fleet management solutions are focusing on drivers more than just using technology. Efficient fleet management will make sure your drivers are obeying road rules and performing well behind-the-wheels. Good fleet management practices end up reducing road accidents and using scorecards to rate driver performances. It also involves putting adequate safety measures in place when they're travelling or delivering shipments.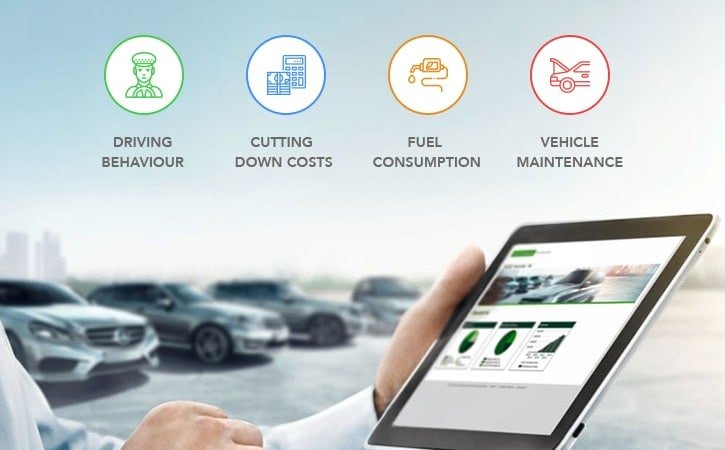 You'll automatically get alerts about the states of your vehicles, and your drivers will be alerted if they're spent idling or delaying deliveries. These solutions will also coach your drivers and make sure they're paying attention in the road. If any routes prohibit vehicles from entering or if the roads aren't safe, these solutions will inform them.
2. Managing Fuel Spend Smarter
If you're installing GPS fleet tracking on your vehicles that actively monitor fuel spend and usage, it will pay off dividends. Going over the speed limit is known to increase fuel consumption by up to 10% and fuel transactional received isn't always accurate.
In fleet management programs, the fuel models track fuel consumption accurately and give you insights into what can be done to optimise fuel usage. You'll get alerts, notifications, real-time reports and insights into how to save money on fuel spend.
These solutions will also instruct your drivers on the best routes to take and give live feedback on traffic and network congestion. Estimated delivery time, weather reports and even statistics such as the vehicle mileage will be shown. It'll also make preventive maintenance a lot easier, and you'll soon discover how the lifespan of your vehicles are getting extended.
3. Improving Driver Behaviour And Training
When you're hiring new drivers, a big problem could be training them well and monitoring their behaviour on the road. Through 24/7 analytics, intelligent feedback from in-cab surveillance systems and fleet management solutions, you can get a detailed review of how they're doing.
You'd get answers to questions related to how much idle time they spent on the road if they resorted to speeding, handbraking and more. All this will save you money, time and reduce the likelihood of your vehicles getting into accidents or suffering from damage. Your vehicle insurance premium will go down too! A good example of this is fleets of taxis are usually cheaper to insure, and you can use fleet management software to ensure the drivers comply with certain standards.

4. Low Maintenance And Better Services
There's nothing more annoying than a vehicle breaking down in the middle of the road or finding out that you haven't serviced your fleet the last month. Effective fleet management will give your fleet scheduled reminders about when servicing is needed and perform vehicle diagnostics.
The telematics technology will tell you exactly what's going on inside your vehicle and if anything is amiss. You can then decide to take the vehicle for repairs or maintenance based on the report. You'll also get access to features such as geofence alerts.
These tell you when a vehicle has entered or exited specific locations along with time and duration spent in each of them. Uploading driver data to your systems and syncing them across becomes easier too. And the best part is all this happens over hi-speed LTE, thus eliminating the need for having dedicated wireless routers, carrier contacts and cellular modems/networks. A big problem is missing documentation when getting on the vehicle and landing in trouble with traffic administration. The system can capture documents and notify drivers if they have all the papers in place before they start driving.
5. Fleet Compliance And Customised API Integrations
Customised API integrations are a part of business intelligence suites. Fleet management solutions let you integrate its features with third-party software and apps. Instead of having multiple data sources, you get insights and analytics on one platform. Be it CRM software, email marketing and communications, syncing alerts and notifications across Android and iOS devices and route scheduling – you'll get these benefits and beyond.
You can also compare telematics data across different vehicles. For example, you could find out why it's taking so long to run maintenance on vehicle A versus vehicle B. Or why deliveries taking longer and if there's something wrong with the routes being mapped out to drives (such as delays in deliveries due to roads having potholes).
There's also the ELD Mandate that states what laws and regulations vehicles must comply to when they're on the road. Using fleet management solutions will make your vehicles compliant to that and make sure your company isn't breaking any legal rules. This will save you money and prevent lawsuits or any other legal complications.
Finally, these solutions are very easy to install, and the setup takes mere minutes. There's no expensive equipment used, and you can extend their features by adding on additional accessories to your vehicles. And customer support is simply fantastic, being very responsive to queries. So if you have any questions in operating these solutions, they'll get back to you soon. The benefits don't end there, and you'll find that it impacts every level of your business. By making operations more efficient and streamlining your workflow through fleet management solutions, you stand out from your competitors in the industry when it comes to providing excellent customer service.
Conclusion
If you're trying to save time, money and get your business to be more efficient, there's no doubt that you will want to implement effective fleet management solutions. Samsara is a brand that's well-versed in this, and you can browse through their offerings to see what's suitable for your business and optimise your fleet management solutions accordingly.
So get ready to exceed customer expectations by implementing these solutions today. We're sure you'll be surprised by the results.