Well the first day of WWDC is over and as expected there has been a new iPhone announced, the iPhone 3G S.
This announcement will come under mixed views as the 3G S isn't so much of a new phone more just an upgrade.
The phone looks pretty much exactly the same however the processor has been upgraded, it is now 3.5G (7.2Mbps HSDPA), the camera is now a 3 megapixel unit with tap-to-autofocus and auto white balance with support for 30fps VGA video recording with editing features. The battery has also been improved with 5 hours of 3G talk time and 9 hours of WiFi internet use.
Finally there is the improved storage of 16GB and 32GB which should be priced as $199 and $299 respectively.
It will go on sale in the US on June 18th and 80 more countries in August. Interestingly this sounds like the new iPhone will beat the Pre on international release.
They are all obviously welcome additions, though I personally think some of them should of been there from the start i.e. 7.2Mbps HSDPA and video recording.
I do think it is perhaps a bit of a lazy release, it seems each iteration of the iPhone is very incremental to keep maintain a certain level of demand for each year. Personally I would of liked to see an OLED screen, Xenon Flash and better graphics capability as well as full flash support.
Hit the jump for a side by side comparison of the iPhone 3G & 3G S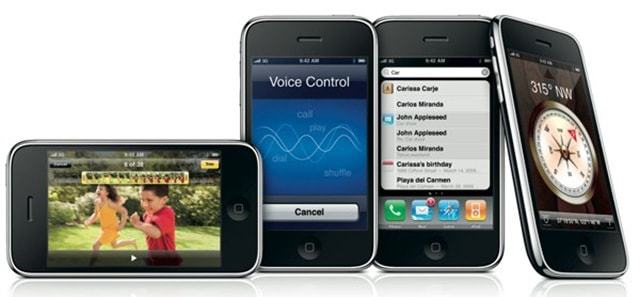 Feature

iPhone 3G

iPhone 3G S

Price
$99 8GB ($299 for ineligible upgraders)
$199 16GB, $299 32GB ($399 and $499 for ineligible upgraders)
Processor
412MHz ARM 11
Unknown, "on average up to twice as fast"
Graphics
OpenGL ES 2.0
OpenGL ES 2.0
Camera
2.0 megapixel fixed focus
3.0 megapixel autofocus with macro mode and auto white balance
Video recording
None
30fps VGA with on-device editing capability
Voice control
None
Dialing, music control
Nike+ support
No
Yes
Wireless
3.6Mbps HSDPA, WiFi, Bluetooth 2.0 + EDR
7.2Mbps HSDPA, WiFi, Bluetooth 2.1 + EDR
Water- and oil-resistant finish
No
Yes
magnetic compass
No
Yes
Included headphones
Standard
Inline remote for music control
Battery life
Up to 5 hours talk time / data on 3G, 10 hours on 2G

Up to 6 hours data on Wi-Fi

Up to 24 hours audio

Up to 7 hours video

Up to 5 hours talk time / data on 3G, 12 hours on 2G

Up to 9 hours data on Wi-Fi

Up to 30 hours audio

Up to 10 hours video

Dimensions
115.5 x 62.1 x 12.3mm
115.5 x 62.1 x 12.3mm
Weight
133 grams / 4.69 oz.
135 grams / 4.76 oz.